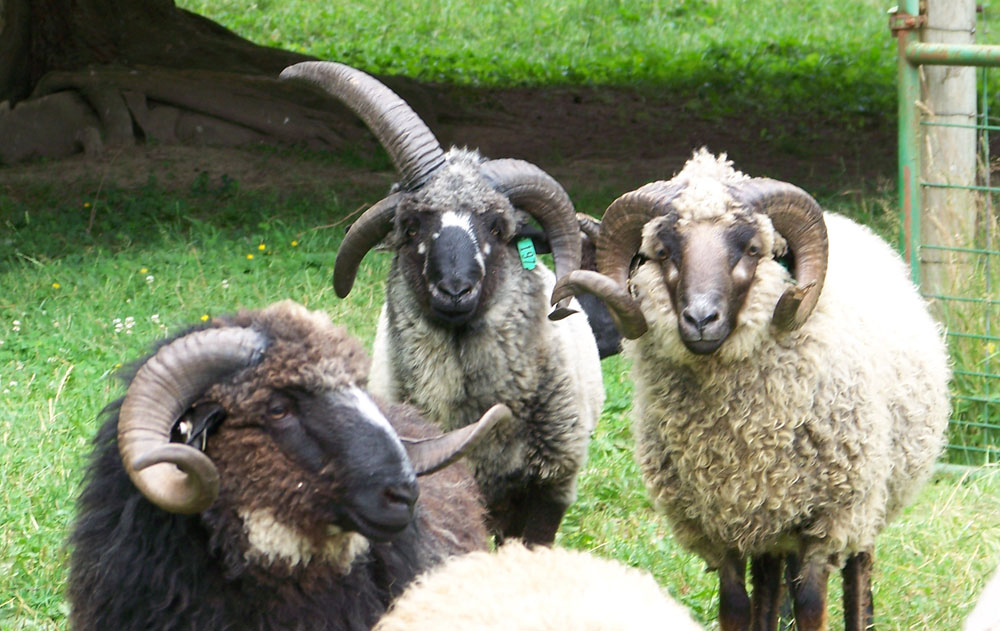 The chickens are almost all harvested. Just one group left to go! Sheep are growing and I have added some to the sale listings. We will have both cross and purebred animals for sale. Registrations have been sent in for the 2011 crop. We have a few crossbred BFL X Gotland ram lambs to offer as terminal sires. This cross provides a lovely silky fleece, like mohair for you spinners, dyers and felters. Two nice cross boys are grey and two are whiter. No worries about these guys as they will finish out nicely for the freezer if they don't sell, with one sticking around as an emergency replacement for the Big Guy Iggy (their dad).
The fields are doing well, we are managing them better this year, less sheep means less overgrazing. Unfortunately, there is always a small amount of time between enough sheep to keep the grass down and too many in a space too long. We are always working on keeping the focus on the grass and its needs and being distracted in other farm tasks. Our next focus is a more appropriate size of a paddock for the flocks to allow good coverage, but not allowing the sheep to go to low in their favorite grazing spots. Reseeding our fields would be great but likely it won't happen anytime soon.
Other activities around the farm this summer include replacing assorted flowers and other plants with edible landscape or habitat flowers. We replaced two rhododendron trees (really they were growing into trees!) with an arbor for honeysuckle for the hummingbirds that tend to visit. Next is to replace some overgrown azaleas with mountain huckleberries.
Our focus on the farm is to have a diverse genetic group of sheep, offering culls to the freezer. When folks are eating and not raising sheep, some really nice animals have gone into the locker. This year we have some really nice ones available, with the ewes being sent in for registration last week. I will list a couple of unregistered boys, simply due to lack of timing on the shearing. Take a look and shoot me an email if something strikes your fancy.
8,572 views